Make any small sub into a wrap at no extra charge.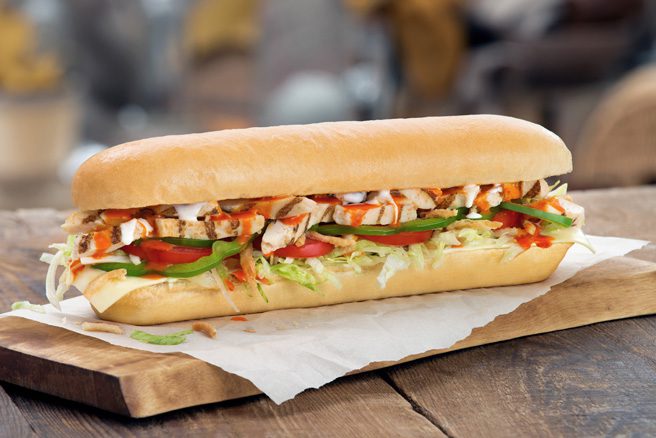 BUFFALO CHICKEN*
All the hot and tangy Buffalo wing flavour, without the mess. All white meat Canadian farm raised chicken strips, French Fried Onions and a drizzle of Frank's® RedHot® Buffalo Wings sauce.
Sm 360 Cals | Lrg 720 Cals
*Not available at all locations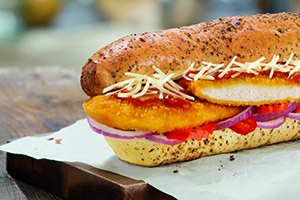 CHICKEN PARM*
A little taste of Italy. Breaded chicken covered in marinara sauce and topped with melted cheese, red onions and banana peppers. Love at first bite.
Sm 510 Cals | Lrg 1020 Cals
*Not available at all locations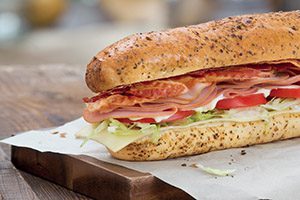 CANADIAN CLUB
When you call a sandwich Canadian, it's gotta be good. Crispy bacon, sliced RWA turkey, RWA black forest ham and your choice of delicious sauce. Welcome to the club.
Sm 390 Cals | Lrg 780 Cals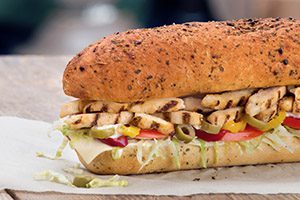 GRILLED CHICKEN
A taste you can feel good about. Our timeless combination of all white meat Canadian farm raised chicken strips, cheese, lettuce, tomatoes and light mayo. So simple, yet sooo good.
Sm 310 Cals | Lrg 620 Cals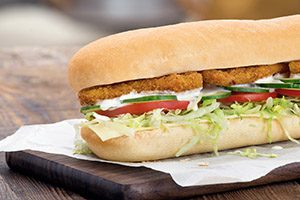 SPICY BREADED CHICKEN
The ideal mix of heat, crunch and Mmm. Spicy breaded chicken topped with cheese, shredded lettuce, tomatoes and our creamy buttermilk ranch sauce.
Sm 440 Cals | Lrg 880 Cals