Make any small sub into a wrap at no extra charge.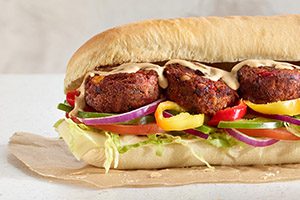 TEX-MEX BLACK BEAN
Black bean bites, MR.SUB cheese, green peppers, red onions, lettuce, tomatoes, hot banana peppers, and Southwest Chipotle sauce.
Sm 520 Cals | Lrg 1050 Cals
gardein™ Meatless Meatballs
3 delicious Meatless meatballs, MR.SUB cheese and marinara sauce.
Sm 410 Cals | Lrg 810 Cals